About Allison
Born and raised in Irving, TX (one of the most diverse zip codes in the country).
Graduated Summa Cum Laude from Irving ISD schools.
Earned a Bachelor's of Arts in Spanish from the University of North Texas and a second Bachelor's in Biology from the University of Texas at Dallas.
Earned a Master's of Science in International Agriculture from Oklahoma State University.
Earned a PhD in Biomedical Science from Oklahoma State University, with a focus in diabetes and infectious diseases such as influenza and COVID-19.
Works full time as a research scientist.
Her husband, Alex, is the president of Advanced Architectural Stone, a stone casting company in Everman, TX.
With her husband, Allison volunteers as an instructor and principal organizer at the Lee's White Leopard Kung Fu schools in the DFW area.
Lives in Euless with her husband and son, dividing her time between family, community, and work.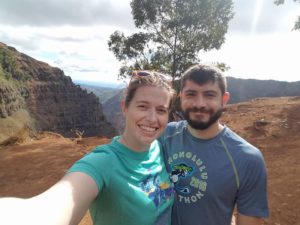 Fun Facts
Allison is an international heavy weight fighting champion in Kung Fu.
Former owner of 'Al's Pals' grooming and pet sitting business.
Allison's favorite (and only) sister is the author and WORD creator, Arianne 'Tex' Thompson.
With her mom, built several horse barns - by hand!
Was a veterinary technician, as well as a volunteer for many animal shelters and veterinary clinics.
 As a volunteer for the Dallas Zoo Hospital, had the opportunity to help rehabilitate an elderly Aldabra tortoise, a brain-damaged beaver, injured brown pelicans from the gulf, and many other exotics.
Was a live-action role player as a young teenager (a bona fide nerd!)
Has been with Alex since 2004.
Owns three dogs, Ripley (a Pit bull), Franks (a Great Dane - his girlfriend's name is Beans, it all works out), and Beagle, a beagle.
Let Alex talk her into running the 2016 Honolulu marathon. Did not die or divorce afterwards.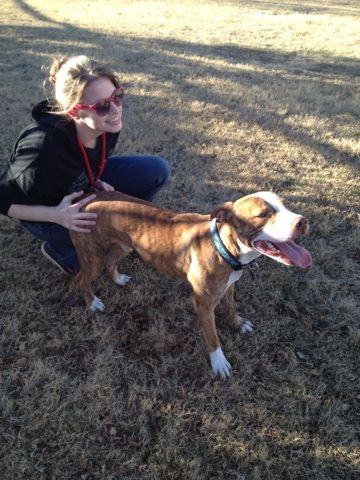 Values & Mission
While I was growing up, my dad was a criminal defense attorney who frequently used his expertise to defend the accused for free. That meant that Mom often supported us on her teaching salary, as a math professor at North Lake College – a community college whose commitment to "education for everyone" mirrored my own experience in Irving public schools. Together, my parents instilled in me the drive to work hard and use my advantages to do the right thing – an inheritance that I am proud to share with Texans of every stripe.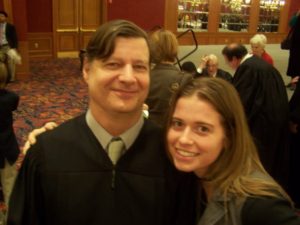 A Legacy of Leadership
From my schooldays as captain of the marching band and the robotics team, I have always been drawn to leadership roles and service opportunities. However, my real education began when my dad gave up his law practice to run for office as a district judge. He ran and lost in 2002, and again in 2004, before finally winning election in 2006. For five years, I watched (and went with him, when I could) as he spent thousands of hours working block walks, voter registration drives, and campaign events of every kind – often as just one candidate or volunteer among dozens of others. It wasn't splashy or glamorous, and we never knew whether this event or that one would make any difference on election day. But I'll never forget going with him to the "Killer Ds" protest in 2003 – organized to help prevent biased Republican redistricting – and realizing that the effort itself was what mattered: that the fight is never finished, that Texans have always and will always stand up to defend our neighbors, and that the person leading the charge matters far less than the ones backing them up. I have been an activist, a voter and a concerned citizen – and I am ready to translate my experience into action.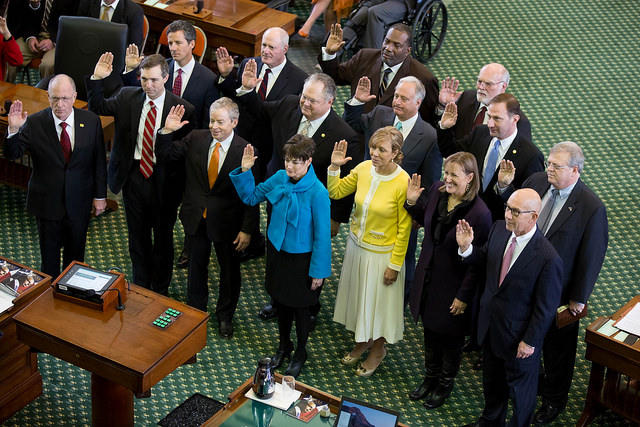 Texas state senators are sworn in after the 2014 election.
Moving Forward
Take a look at the photo above. Then compare it to the people you see at the grocery store. Or in the school pickup line. Or at a Cowboys game. The problem quickly becomes evident: most of the people who represent us – don't.
I want to help fix that. I want to be part of a larger, more inclusive movement to provide every Texan with a voice and a seat at the table. I will stand for Texans who need health care – a livable minimum wage – equal rights, regardless of color or gender or religion or sexuality – reliable public education, and affordable college – a fair and accessible legal system – clean air and water. In other words, I will stand for all Texans.
That includes producers and businesses. We have one of the strongest economies in the world, and more than enough homegrown initiative to support our entrepreneurs and consumers alike. We have a lot of work to do to meet the challenges of the 21st century and forge a forward-looking Texas that more fairly serves all of its citizens. Fortunately, hard work isn't just a buzzword for us – it's our way of life.